Jukes' brace as Barbury sets sail
28-November-2017
28-November-2017 15:01
in General
by Peter McNeile
Barbury was clear and sunny, but brisk and cold last Sunday for the opening Point-to-Point Owners Association fixture, reports Jake Exelby. A fair-sized crowd was rewarded with an excellent turnout - 65 of the 85 entries ran.
The highlight of the card, both on paper and on the day, was the Equine Health Centre Mixed Open. 19 of the 25 entries stood their ground, including John Corbet victor Now Ben, Lilbitluso, who had such an outstanding season in 2015, and Ericht, useful under Rules for Nicky Henderson, who was present to watch daughter Camilla ride. The spoils however went to Iberico, following up last year's success in the same race, and initiating a double for rider Sam Jukes and owners Clive and Eileen Bennett. Always handy in mid-division, the 11 year old made smooth progress to lead 3 out and score comfortably by 5l from Lilbitluso, who was always prominent. Big Casino, who also raced up with the pace, was 8l third on his Pointing debut.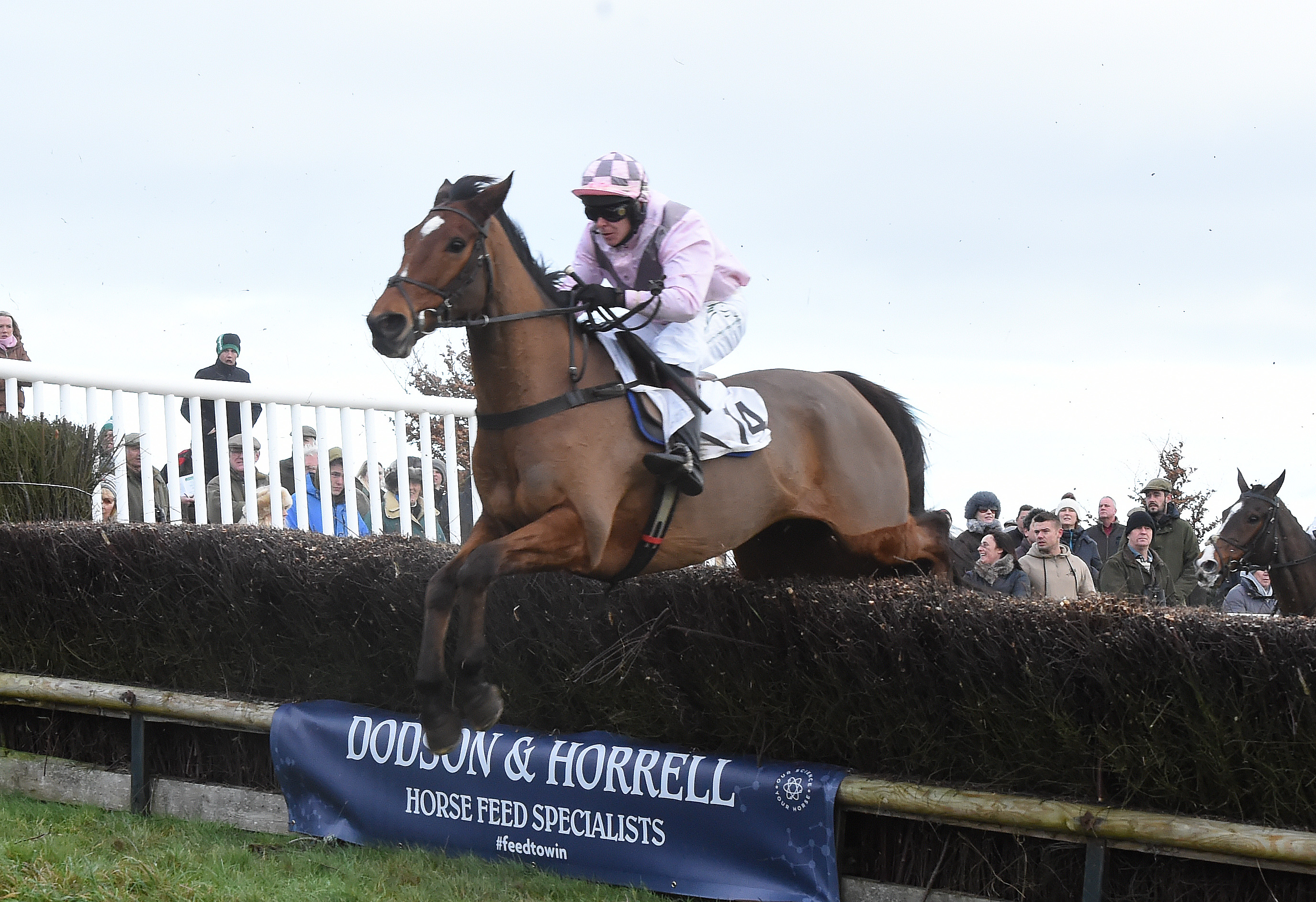 "It was worth cleaning the cup after all," laughed Clive. "When we saw the entries, we thought we had no chance, but that was extraordinary. He's 11 going on 12, but he's still improving." "Eileen added, "We've had him since he was five, bought from Padge Berry," taking no credit for this victory. "Sam plans the whole thing; it's all about the jockey." Iberico is likely to stay pointing, but the winning trainer-rider refused to be drawn on plans, saying only, "We'll see how he comes out of the race. He's direction-dependant; he needs a left-handed track and soft ground is best."
Emma Alvis, owner-trainer of Big Casino, was responsible for the Bennetts and Sam's second scorer, Chasforgold, in the Tony Kemp Memorial Intermediate Race, a competitive 10 runner contest. His jockey again kept Chasforgold mid-division, anfd despite a bad mistake at the fifth, he stayed in touch with the leaders and jumped to the front five out before repelling the challenges of Robin des Bois and Palmaria, holding the latter at bay by a length, with Robin des Bois a neck back in third.
"I thought he'd run well," confirmed Emma. "He wass second in this race last year, even though still a maiden, and is stronger this year. He had a hard race there, so probably won't run again till January," she continued of the rangy 8 year old. "He likes the track and loves this ground." Winning owner Eileen Bennett added that despite all the years she and Clive have owned Pointers, with 85+ winners, this was only their second double. Asked about plans for Chasgold, Emma replied, "Plans? What plans? We do as we're told!" It was also a second career double for rider Sam, who admitted, "It feels as good as the first!" Turning serious, he claimed not to be fussed by the mistake at the fifth, saying, "He gets away from his fences well."
After Sam and the Bennetts, the hero of the day was 16 year old Connor Brace, who rode his first winner over fences just seven days after his first ride in Points. He was successful on William Money - on whom he was second last week - for his grandfather David Brace, a long time supporter of Pointing, in the 12 runner Dodson & Horrell Novice Riders race. Dodson & Horrell's sponsorship has carried on almost twoce as long as Connor's age! The contest looked to have got away from the odds-on favourite after Tim Gredley kicked Just Cause into the lead at the ninth and went clear three later, but Connor showed he has a cool head, staying in touch with the leader and heading him two out, scoring cosily in the end by 8l. The fast-finishing Vaillant Creek was a further 15l back in third.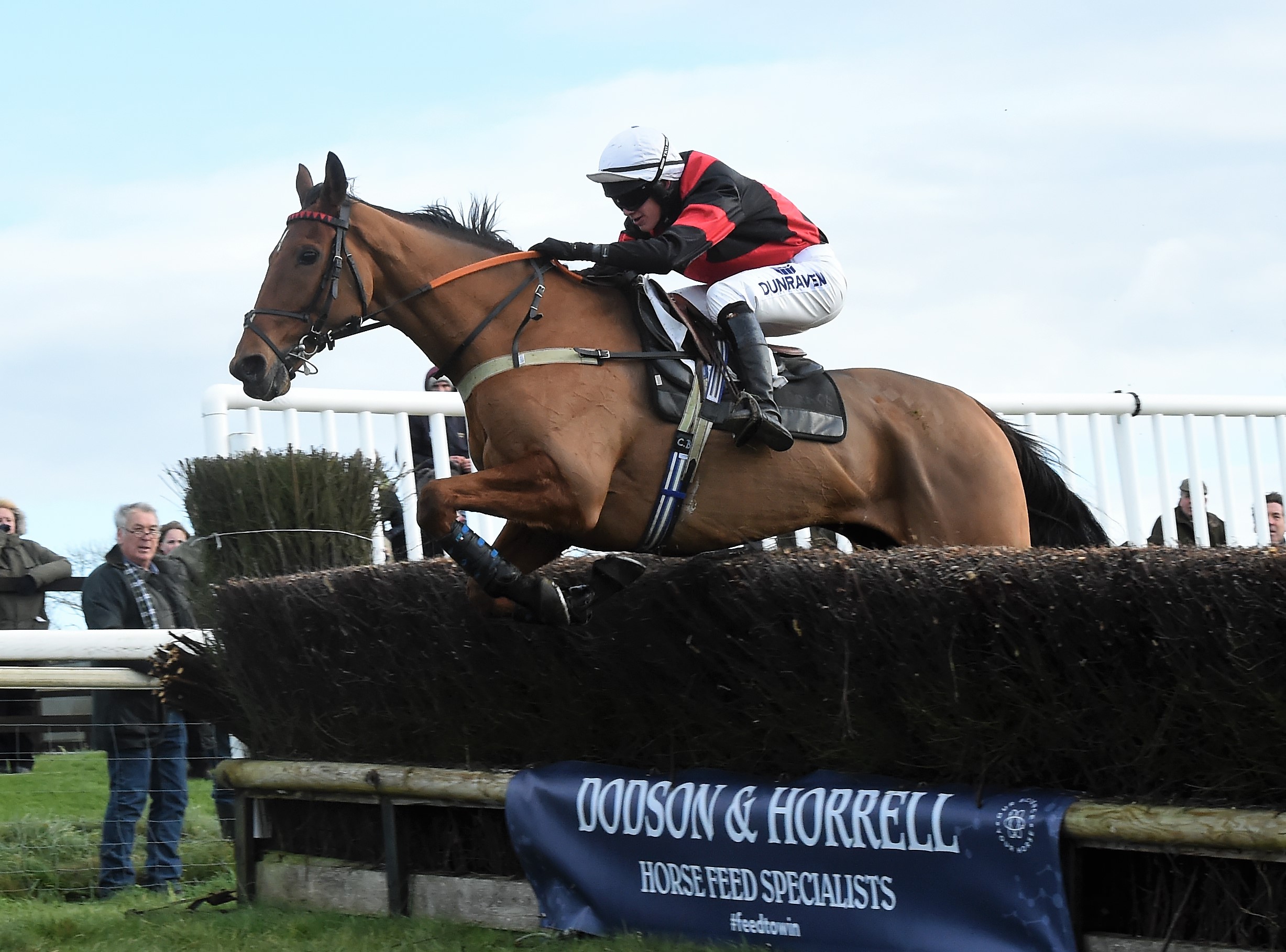 "That was fantastic - the most pleasure I've ever had from a race," reacted David Brace, with visible emotion. "Connor rode a lovely race. I know it sounds blase, but I wasn't worried (when Just Cause went clear). He knows about pace from his pony racing, his horse stays forever, and he always had the leader in his sights." David was also unfazed about William Money's quick reappearance, admitting,"I wsas more concerned about Connor winning!" With three winners already this season, he added,"It's a cracking start, the best we've ever had."
"The plan was to jump off handy and just blitz the others but I sat quietly as I knew he'd keep galloping," was Connor's verdict. David had two entries, and Connor admitted,"I wanted to run the other one, but Grandad told me to run William Money." Despite his youth, Connor has plenty of experience, having ridden in pony races since the age of 9 and accumulated 45 winners. He has spent time with Philip Hobbs, but is back with David for the Pointing season, , where he hopes to follow oin the footsteps of James Bowen as Champion Novice Rider. He has a commendably mature attitude to his future. "I'll see how I get on," he added. "I'll probably do a second season Pointing before turtning conditional. Mr Hobbs will tell me when I'm ready."
All six entries faced the starter oin the Surrey Cook Conditions Race for 8yo+ who hadn't won (Members races excepted) for two years, and there was a red-hot favourite in the shape of Fran Nimmo's Rendezvous Peak, with multiple champion Will Biddick aboard. Long odds-on punters looked likely to collect when he hit the front at the eighth and quickened clear, , but Solly Wood on Sentimental Journey tracked the leader throughout, heading him 2 out and going on to score by 12l, with Shangani 8l back in third.
"It's the first runner in my name, and our first winner,"confirmed owner-trainer Robert Varnham. "I ride the horses out, but my wife Lucie does all the hard work." The Varnhams have 4 horses in at their yard near Bramley in Guildford, where Don Underwood (father of Tim) was based. "We used Don's gallops,"Robert went on, adding of Sentimental Journey, "Lucie bought him online. He's a bit of a bugger at home, but once you lunge him, he's good as gold. And Solly, who rode for us last year, gave him a perfect ride." At this point the successful jockey joined us, adding,"I wasn't worried that Will had gone on - the horse had plenty in him." Solly worked for Alan Hill last season and is now with Jonjo O'Neill, where he looks after 6 horses."I'm hoping to pick up a couple of rides for Jonjo,"admitted Solly, But I'll ride any horses I can, for the experience, and hope the winners come along. I'm planning on taking out a Category B licence but turn conditional? Let's see what happens.."
The first of the two Maidens on the card, sponsored by the Jockey Club and NAF, had just 7 declarations but plenty of incident. River Dun unshipped Darren Edwards on the way to the start, and was withdrawn. The Elska jumped into odds-on favoutrite One Big Love at the first , causing her to unseat, before refusing herself at the second. This left just four to race the two circuits, and Pique Rock took advantage of the jolly's early departure, tracking pacesetter Act Like You Know before jumping to the head of affairs at the cross fence. After that the 5 year old was always in command, and went on to win by an easy 8l, with Sackable Offence 10l third.
Owner Juliet Minton was absent, "Taking 13 foals to Newmarket" in the words of agent and husband David, who acyted as spokesman for winning connections, Phil Rowley and Alex Edwards having rushed off to saddle Now Ben for the next. "But she listened on the phone as I reported, "Don't worry, he's trotting up!" She's a homebred,"added David. "We like her a lot. She was at Phil's asa baby, then went to Alan King here . You can see her box from this paddock! She ran well at Cheltenham, then lost the plot, so she had a wind operation in the Spring. She's been working well at home, but is still a bit buzzy, so she'll probably have another season's Pointing before returning to Alan's."
The final Valley Equine Hospital Maiden, over 2m4f, saw 12 go to post, and was won comfortably by 33/1 outside Lily's got Wings, who jumped superbly and was ridden cnfidently by Jack Andrews for Leamington Hastings handler Julie Wadland, also responsible for useful types like Golden Tobouggan and All Great N Theory. With the damaged cross fence omitted, she took the lead as early as the second and was never headed thereafter. ALex Edwards on the well-fancied The Sting harried her after a circuit but never looked likely to prevail, and was beaten when falling at the last, leaving U No Like a remote second, with sole other finsiher Troed Y Melin a distance third.
"We bought her unseen from Richard Curran in Ireland," reported Julie of her 5 year old, led in by leading jockey Claire Hardwick. "She'd run three times threre and is a quirky little thing - keen and buzzy - a right pocket rocket!We didn't know what to expect; she needs to learn to settle, which is why we chose the 2m 4f race. Hopefully she'll make a Ladies horse for Claire." "I didn't have much choice!"chuckled Jack about his decision to make the running. "As soon as she turned down the hill, she was away.She gained lengths at every fence and The Sting couldn't get close to us." Julie's husband Charlie had - as so often - the last word, "We'll look for a Restricted over the same trip, but let's see what the morning brings."
At the end of the first fixture, honours are evenly shared betwen six trainers on the leaderboard for the Dubarry Leading Trainer Award, with Lynn Redman in 7th on 8points, courtesy of two placed horses.